I had the lovely experience last week of being a visiting author at King Henry VIII School, Coventry. My session was organised by Kirsty Kinmond, the enthusiastic librarian at the school. I was aksed to give an informal one-hour talk in the library, where I would say a bit about being a writer and answer questions from the students.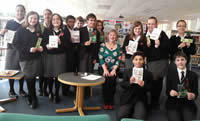 With students in the library at King Henry VIII school
One of the things I love about King Henry VIII is that the students are always so full of questions - and so ready to answer my questions to them. As the lunch hour progressed, more people came along and some had to leave to go to other things, but that was fine - it all added to the informal atmosphere. We had an interesting discussion abotu where fictional characters come from, and how it often feels as though you are not really making them up at all but listening in and watching to see what they will do next. We talked about favourite characters from books we'd read, and tried to work out what made a character really special. Many of us liked the idea of a hero/heroine who is not always very confident - someone who, like all of us, has doubts from time to time and maybe doesn't see him or herself as a hero at all (Frodo from Tolkein's
The Lord of the Rings
is a good example of that). And I was delighted to discover how many of my audience are writing books, stories, plays and film/animation scripts of their own.
But enough from me and over to Joe, who was one of the participants in the discussion. Joe has very kindly written the following piece about my visit, which I enjoyed reading very much. So thank you Joe, Kirsty and everyone else who made me so welcome at King Henry VIII School. I hope to see you all again soon.
R
o
s
a
l
i
e
W
a
r
r
e
n
v
i
s
i
t
On the 7th of November 2012 Rosalie Warren visited the library. She brought some of her books like Coping with Chloe and Charity's Child in the library. She asked some questions about some of our favourite characters out of books and films and we also got a chance to ask Rosalie Warren some of our own questions like how were you inspired to write and she said, 'I have always loved reading books and writing from a young age,' and that is apparently how she was inspired to write books.
We also all got a chance to give her some of our ideas for books and some of us explained characters that we had made up for our own books

. W

e also had a pleasant biscuit while we were listening to Rosalie Warren's interesting points of views on certain books.
The visit from Rosalie Warren really put us in the shoes of a writer and how it amazed us to see how she got to where she is now.
'I always wanted to be a writer... even before I could write! I used to make up stories by drawing cartoon pictures of my characters and their adventures. The stories were mostly about big families, because I was a lonely little girl who didn't have brothers and sisters. Come to think of it, my stories are still mostly about families, because that's where so much of our lives happens,

both good and bad.
I have always loved reading and my all-time favourite books are the William books by Richmal Crompton.'
Proudly made by Joe Scott